Picking up where we left off…
10. The one where we find out that Schmidt and Henderson are just as kinky in the bedroom as Knight and Mitchell, or, the one where Katelyn is just as onto the boys as Jo is.
So, remember when it was just kind of a fandom inside joke that Kendall and Logan were incredibly kinky in the bedroom? Remember how, then, both show and RL canon keep backing that statement up as fact? Good times, really.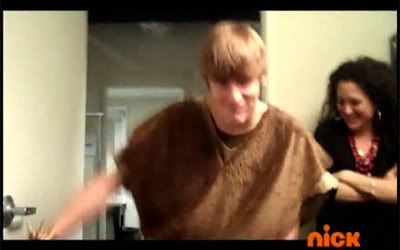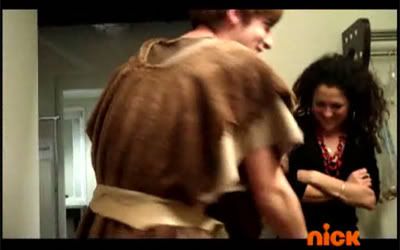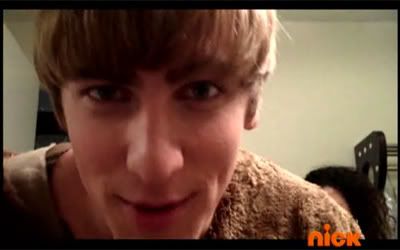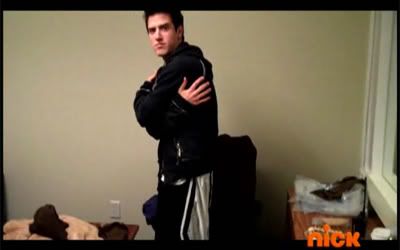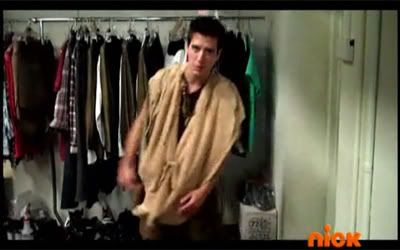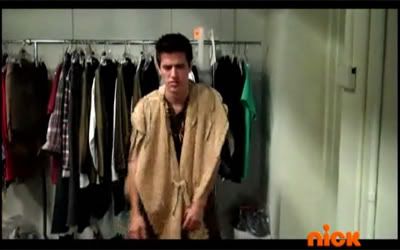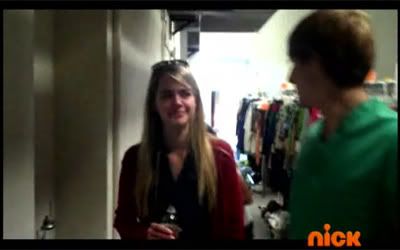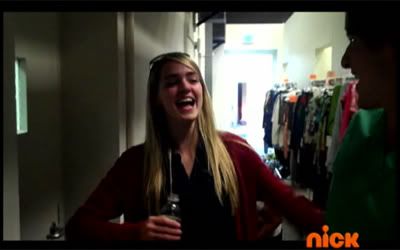 Logan: What's going on? We're gonna see Kendall do the caveman dance, the caveman dance, go on, do the caveman dance. Move your feet, move your feet, move your feet, move your feet. Hey, do the caveman dance! What? Do the caveman dance!
Kendall: We're gonna turn it back on Logan as soon as he gets dressed. This is what he looks like now, this is before – and after!
Logan: Caveman style.
Kendall: What's the caveman dance?
Kendall: Oh, hey, look. Now I go from caveman to nurse.
Logan: Well, hello, male nurse. Totally, totally… awesome. Isn't that right.
Katelyn: Hey!
Logan: It's Katelyn! She's on our show, she plays Jo. The most beautiful girl in the world!
Why it's epic:
Kendall and Logan being adorable together in general makes me ridiculously happy, but the way that Kendall smirks at Logan when he turns the camera on him and the look that he gives him when he shows off his nurse costume is only surpassed by the obvious intrigue in Logan's voice when he responds with, of all the things he could have possibly responded with –
"why, hello, male nurse."
Logan, sweetheart. We know that the thought of Kendall dressed up like a male nurse is intriguing to you, but sounding ridiculously turned on when you're shooting a behind the scenes segment for Nickelodeon probably isn't the best idea. And then he continues on with "totally, totally…" but instead of finishing his sentence with "hot" or "sexy" or "intriguing" like his brain was finishing for him, Katelyn walks up at just that moment with a "boys, do I really want to know what's going on here?" look if I've ever seen one. It's been head canon for me ever since this video that Katelyn is absolutely onto Kendall and Logan
and Kendall is equally onto Katelyn and Erin
much in the way that Jo is totally onto Kendall's sparkles in the show.
watch the video here
9. A story for the grandkids if I've ever heard one, yes?
The group of Popstar interviews that I've come to refer to collectively as the "couch interviews" are some of my very favorite interviews that the boys have ever given, for a number of reasons. James is, as usual, wearing more makeup than I've ever seen any boy wear (I'm pretty sure he might be wearing eyeshadow to match his jacket, you guys), and Carlos is darling and holding a puppy, but these interviews? Are all about Kendall and Logan.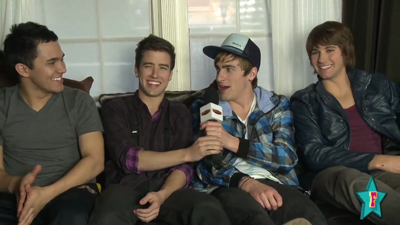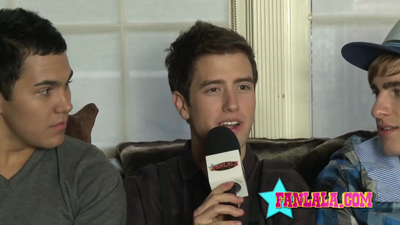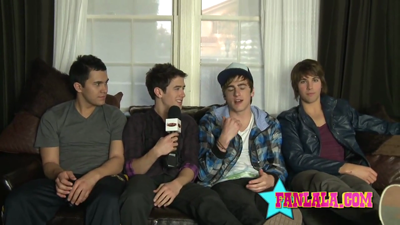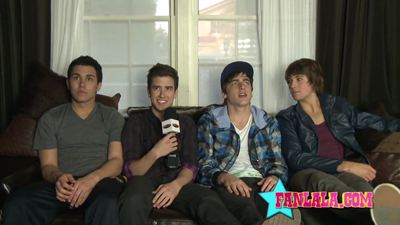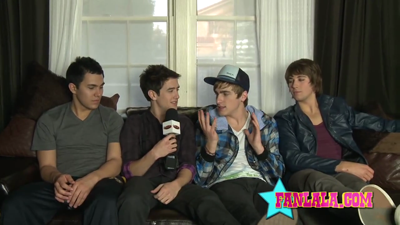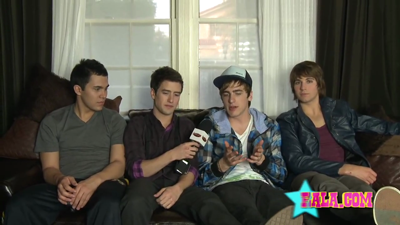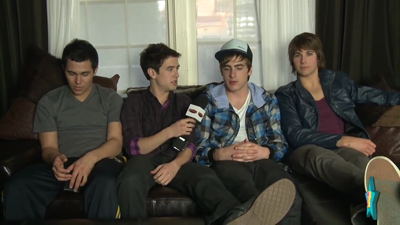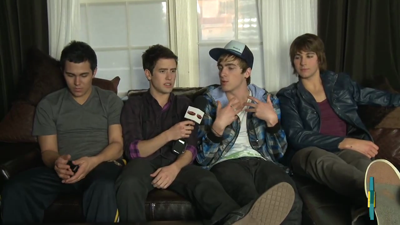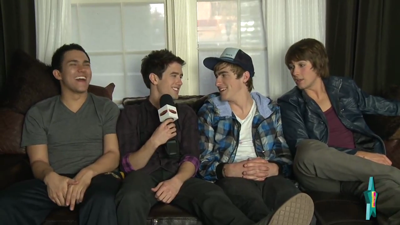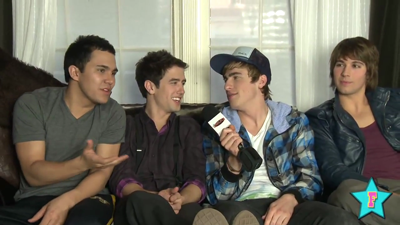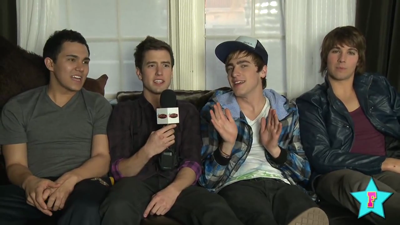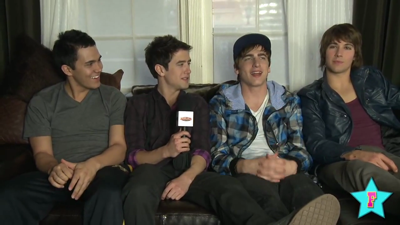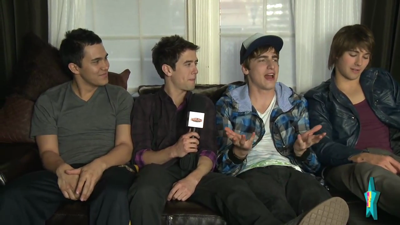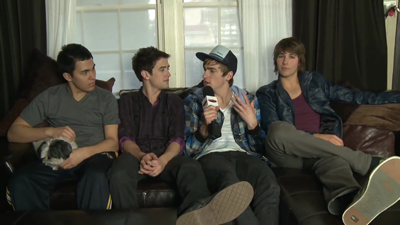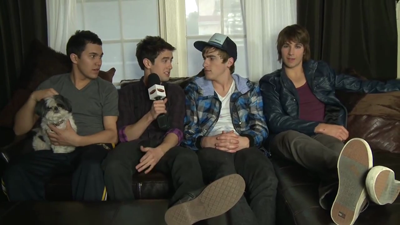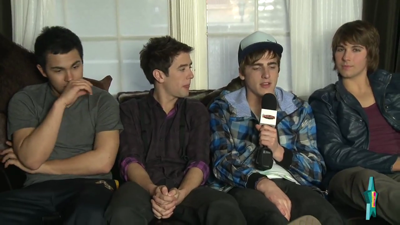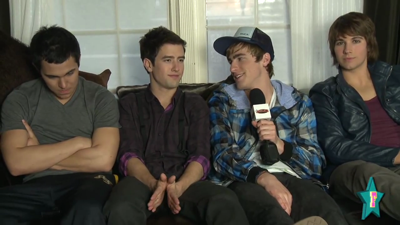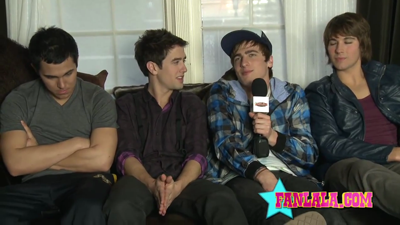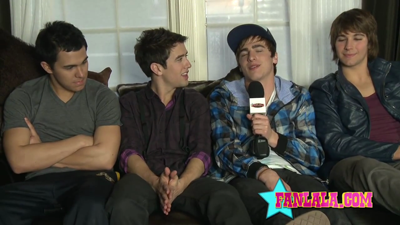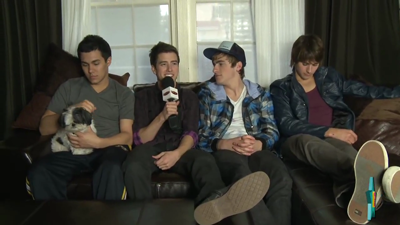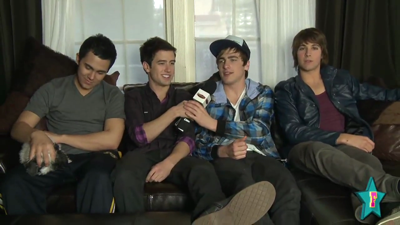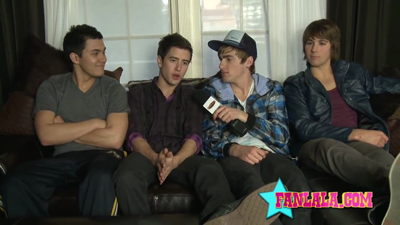 Kendall: I found out about the show with them, and, you know, it was really exciting – I was kind of overwhelmed at the time, I thought I was going to have a night to go home and sleep and think about it –
Logan: Me and Kendall knew each other before the show, and so it was cool to be able to –
Kendall: As soon as I saw him walk in, I was like, ah.
Logan: Thank goodness.
Kendall: I mean, these guys are like my brothers now, but to know somebody when you're going into something unknown, it really helps out with the process, and it might have even contributed to me being more comfortable, comfortable enough to get the job.
Why it's epic:
Because of the way that Kendall and Logan's eyes are continually drawn to each other like magnets throughout the entire series of interviews. Because of the way that Logan can't stop staring at Kendall like he's the most beautiful thing he's ever seen and
licking his lips
in the process (no, really, does Logan have any idea how much he does this on camera? Because someone on his PR team really needs to tell him that it's not a good idea to
blatantly lick his lips
while staring a hole through Kendall's body). Because of the way that Kendall and Logan just have to yet again tell the story of how they knew each other before the show. (We've never heard the story of
how
they knew each other, although I'm pretty sure I've figured out that the connection is Selena Gomez. Kendall's brother, Kevin, was in Princess Protection Program with Selena and Demi Lovato – along with Nicholas Braun and Samantha Droke, who would go on to become his Poor Paul castmates – and there are candid pictures around that prove that Kendall and Kevin are still fairly close with Selena, while we all also know that Logan is good friends with Selena and Demi from their days back in Texas. My guess is that the mutual friendship led them to sort of vaguely know each other within their greater circle of friends before being cast.) But it's not just that they have to tell the press that they knew each other – Kendall has to ramble on about how having Logan at his audition made him more comfortable. So comfortable he possibly attributes getting the job to that very fact. (Also, let's take note here of Kendall's sparkliness levels. Yes, there are some questionable hand gestures from time to time, but for the most part, Kendall looks like a dirty hipster boy in a trucker hat who just so happens to have fallen for a certain dark-haired Texas boy. Let's compare this to, just months later, the boy who has become
pretty much become a stereotypical out boy
. It's an amazing transformation, really.)
8. Logan's dream girl, apparently? Is a Schmidt boy. According to Kendall, at least.
This interview is epic for a handful of reasons, among them being the fact that we learned the boys' epic original character names (did you guys know that if you look "Konas" up on Urban Dictionary, you get a, um, slang term for a not-so-straight sexual act? And that this entry was put up years ago, so it can't possibly be any of us joking around and poking fun at this interview? Five bucks says someone on the creative team was totally in on that joke…), but by far the most epic moment comes right at the start with the response to the very first question.
Interviewer: Logan, what does your dream girl look like?
Kendall: Don't say me again, Logan!
Why it's epic:
Honestly, what on earth even possessed Kendall to give an answer like this? Really, sweetheart? I mean, we all know that you
are
Logan's dream girl and all, but I can't even imagine what in the world made Kendall think it was a good idea to both call Logan out in this way and shamelessly flirt with him for no reason at all in an interview. Oh,
these boys
.
read the full article here
7. The one wherein Kendall wants to date Carlos and James and Logan really cannot deal, or, anyone trying to steal Logan's boyfriend makes him cry a little. And not just on the inside.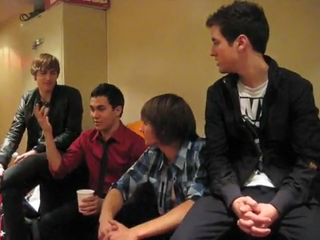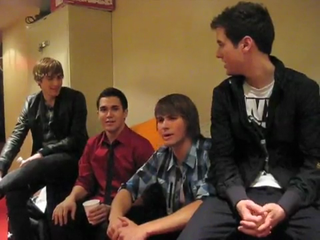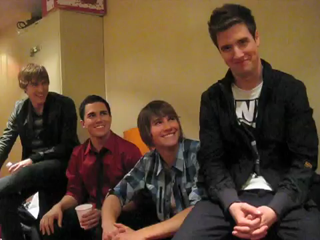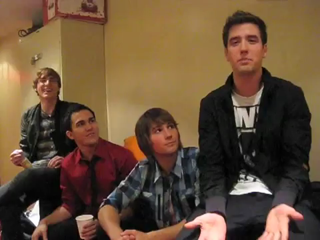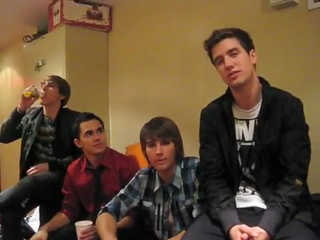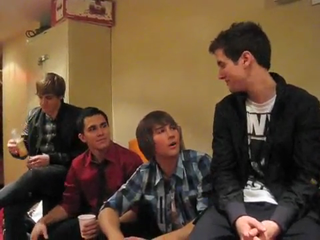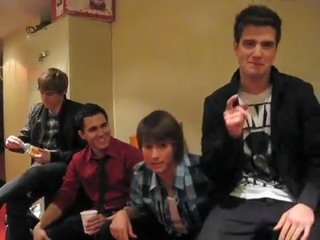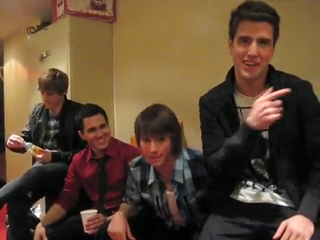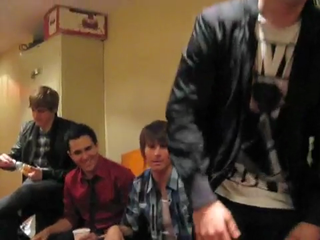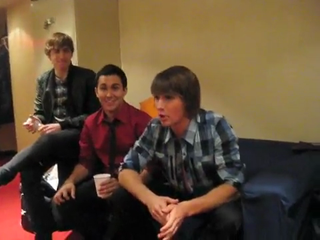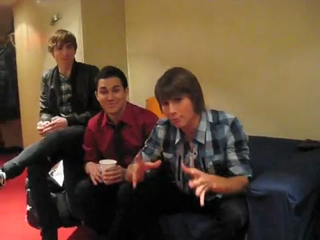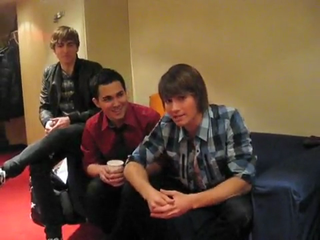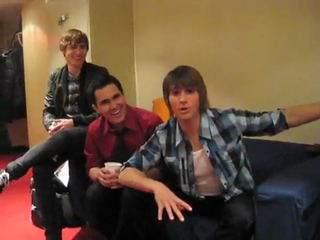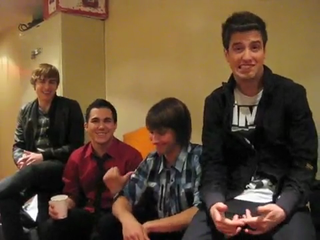 Carlos: I like the, uh, I mean, amazing weather in California in the summer, so I just got a Jeep that has no top, so I think, you know, driving down the PCH, you know, just driving down –
Kendall: Can I go on a date with you? That sounds awesome!
James: Anyways. Logan! Why don't you go?
Logan: Okay, I'll go now. Um. I would probably – I don't know. That's a great idea, honestly. I would love to go the beach somewhere. I know Malibu has some really cool spots that I know about that are kind of secretive, except not really.
James: Wow, that's so awesome and ordinary.
Logan: I… need to go.
James: I would love to charter a private jet, right? Take my date to somewhere across the world, and go snowboarding where they have snow. Okay?
Kendall: He's gonna get a date first.
Why it's epic:
Well, to start off with,
Kendall wants to go out on a date with Carlos
. That on its own would be epic enough to merit including this video in the spam, but it's only the beginning of everything here. What's most epic is not what Kendall says, but how Logan and James react. The tension in the room
immediately
becomes almost suffocating and stays that way for the entire rest of the interview, and Logan? Logan is not exactly good at hiding his emotions, it seems, because after that point in the interview, Logan's face is beet red and Logan's voice is shaking and he even
has to get up and excuse himself from the interview
for a moment, which makes no sense unless he was, you know, less than thrilled with Kendall asking Carlos if he could go on a date with him. James, on the other hand, puts on his famous bitchface, and proceeds to ramble in an over the top and slightly agitated way about his ideal date. (Did you guys know that Carlos loves snowboarding? That that's how he's spending this very week, even? *nods* Interesting, James.) I really have no other explanation for Logan and James' behavior in the second half of this interview if it's prompted by something other than their extreme displeasure at the idea of Kendall and Carlos going out on a date. Carlos seems to realize this, while Kendall, on the other hand, giggles like a schoolgirl and thinks flirting with Carlos on camera is the most fun idea anyone's ever come up with. Approve of boyfriend sharing more, why don't you, Kendall?
6. You know you're obvious when your best friend who's got an unrequited-love-for-you thing going on has to immediately emo tweet upon seeing this video.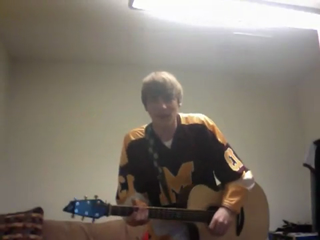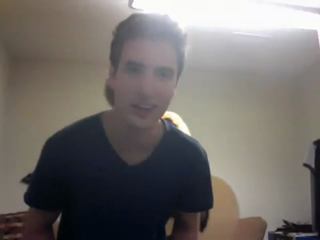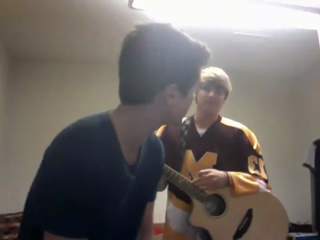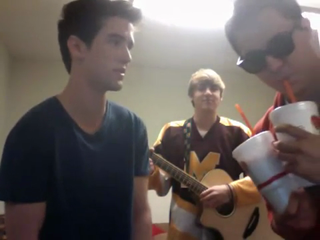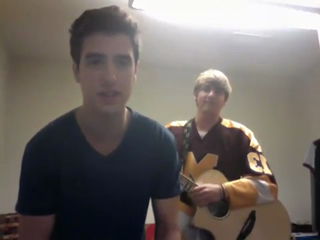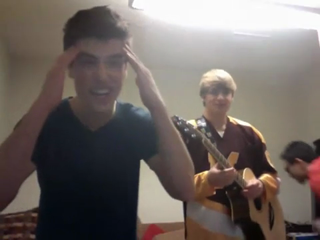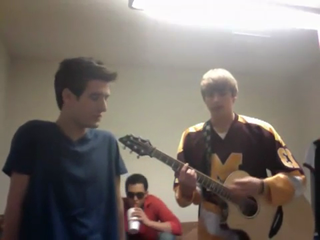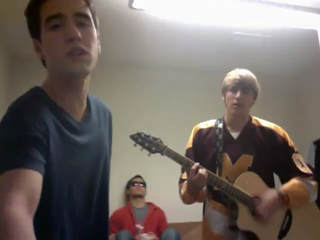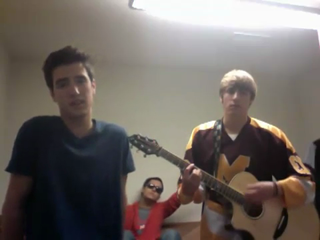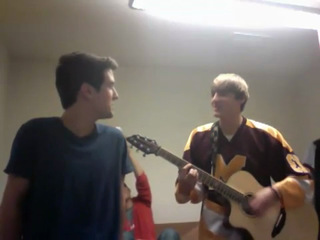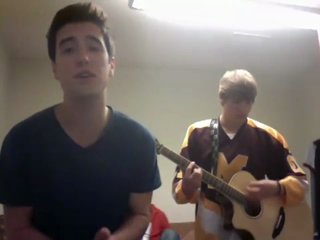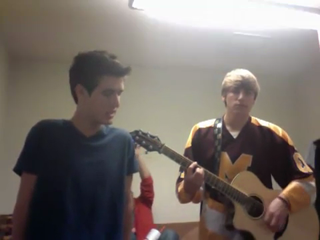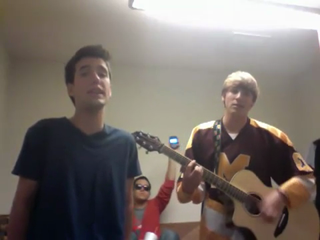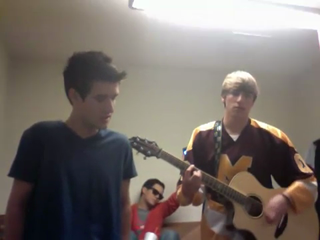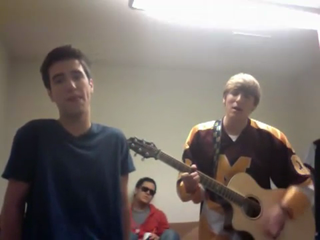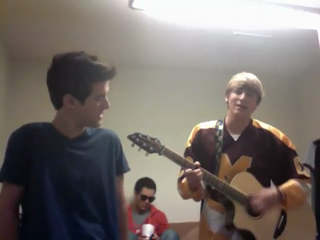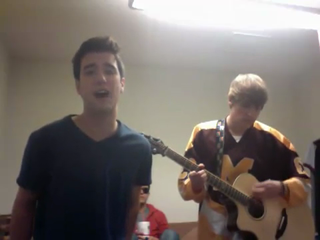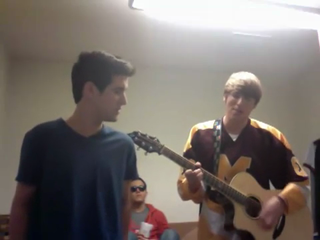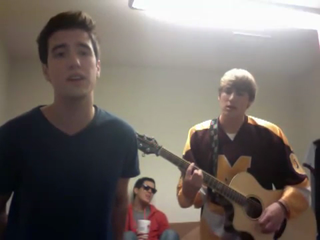 Kendall: Hey, what's up, everybody? Kendall here, and we've got a couple hours break on the set of Big Time Rush, and I have a friend who wants to sing a little ditty.
Logan: What's going on, guys? Logan here, and um, we are going to sing John Mayer's Edge of Desire for you, because I know that it's a really inspirational song.
Kendall: What's up, Carlos?
Carlos: 'Sup? Yeah, Kendall, I brought you a Jamba Juice.
Logan: You're going to bring Kendall a Jamba Juice and not bring me a Jamba Juice. Is that what's going on right here? Go sit down.
Why it's epic:
Because Kendall and Logan's voices together in harmony sound like perfection. Because Logan thinks this song is
inspirational
. Have we listened to the lyrics of this song that Logan finds
inspirational
? "Don't say a word just come over and lie here with me / 'Cause I'm just about to set fire to everything I see / I want you so bad, I'll go back on the things I believed / There I just said it, I'm scared you'll forget about me." Yes. Logan thought that was an
inspirational
song for them to sing together. And then there are the little looks that Logan keeps sneaking back at Kendall throughout the entire song, and the smiles they exchange over Carlos being ridiculous in the background, and, oh, yeah. There's also the fact that
within two hours of this video being posted
, Dustin emo!tweeted this:

Which, I'm sure, had nothing at all to do with the fact that he and Kendall used to make this exact same sort of video together, and nothing at all to do with the fact that he's spent the past half a year or so being an angsty emo boy at watching Kendall and Logan get closer and closer and seeing the spark between them. Nope. Not at all.
5. Teenage boys grinding together is totally appropriate for tween television. No, really, it is.
We've all flailed to death about every moment of the Halfway There music video, which is quite possibly the most epic music video in the history of music videos, but out of all the epic moments in the video, this moment has to, by far, be the most epic of all.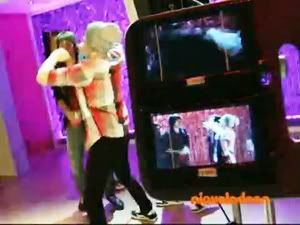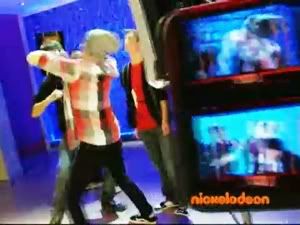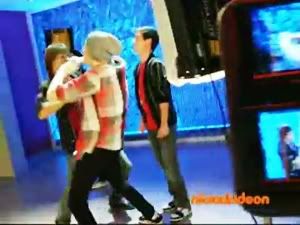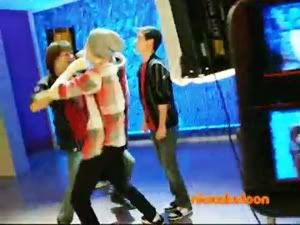 Why it's epic:
Do I even need to say why? Just look at the caps. Just watch the video. Kendall. And James. And grinding. Together. On screen. In a music video aimed at preteens and aired on Nickelodeon
except for the part where Nick totally realizes it's inappropriate and doesn't air this part, but Teennick does, because Teennick is amazing that way
.
4. This is the point in the picspam where I resist the urge to make jokes about James getting lucky after knocking on Carlos' leg.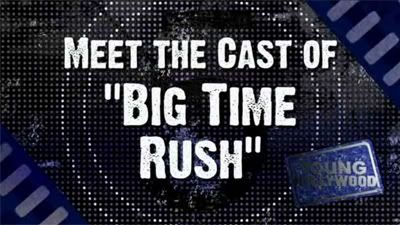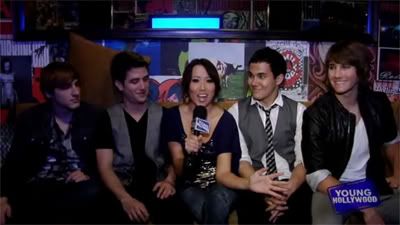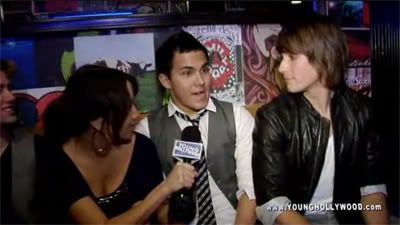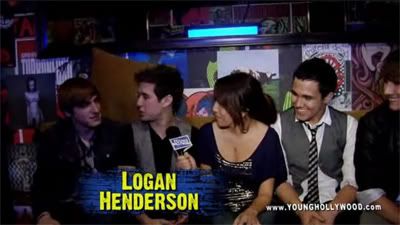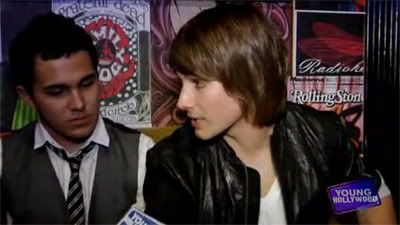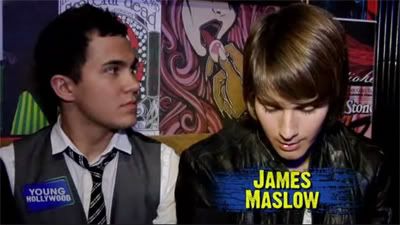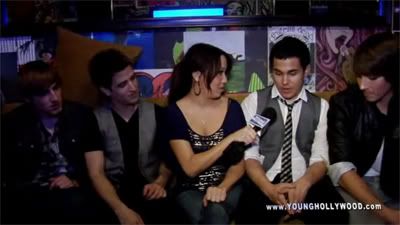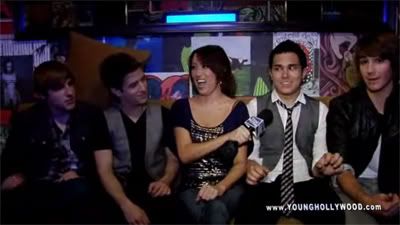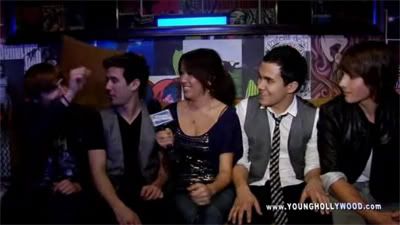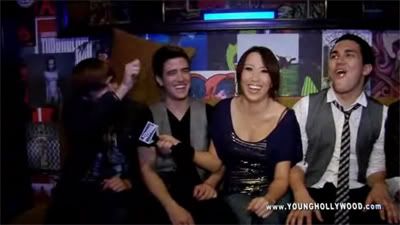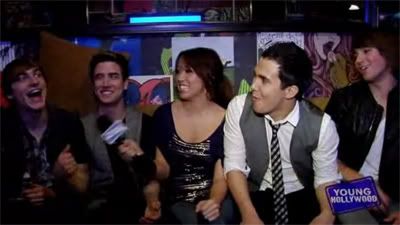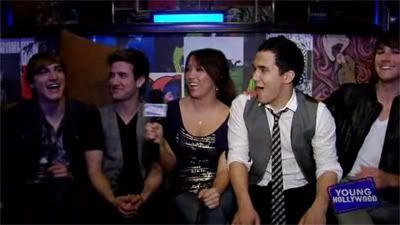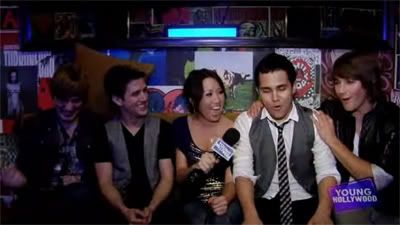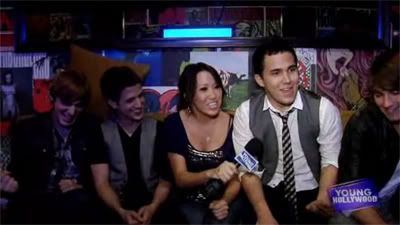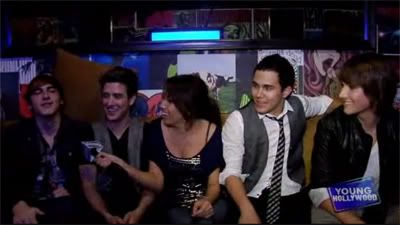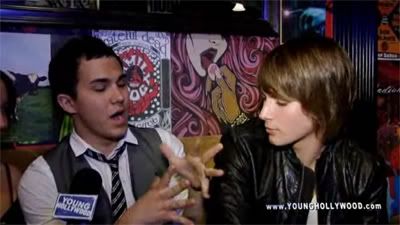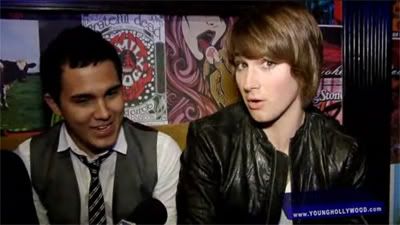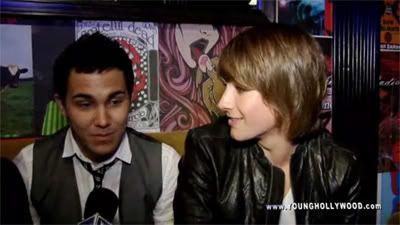 Interviewer: You have not only an album coming out, so you guys are a band, and you also have a show, so it's a little bit different.
James: Yeah, actually, so, we've been pushing the show mostly. We really wanted to establish a good show, and you know, knock on Carlos' leg, we have established a good show. Now, we're becoming a band in the show, but in real life, we're actually recording our album, we're releasing a few songs at a time, and pretty soon we're gonna start really pushing for some radio songs. We're recording a few right now that I think may end up being hits, and we're hoping for that.
Interviewer (to Carlos): So you're the lucky one, right? We've gotta knock on your leg?
Carlos: I – I guess?
Interviewer: What about him?
Kendall: Knock on his head!
James: You're messing with my boy!
Carlos: It's alright. I take it.
Kendall: Burn!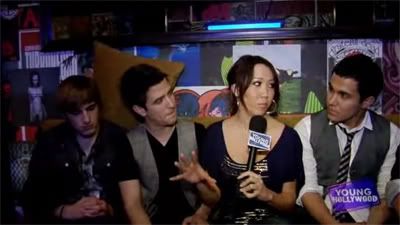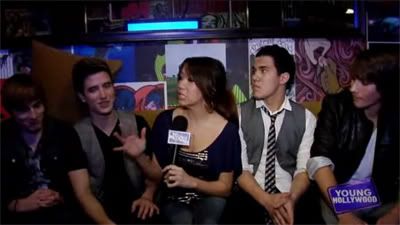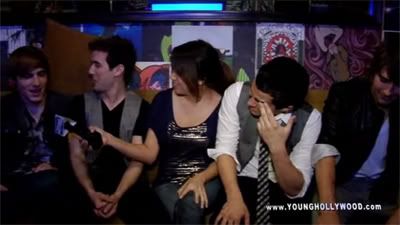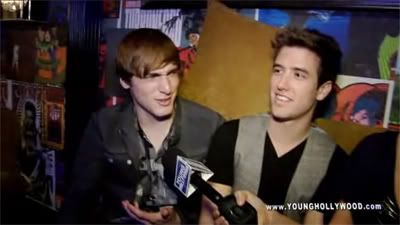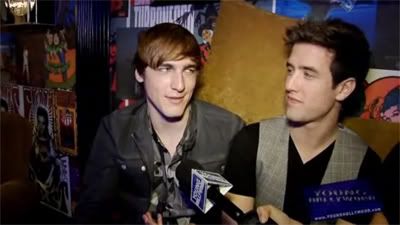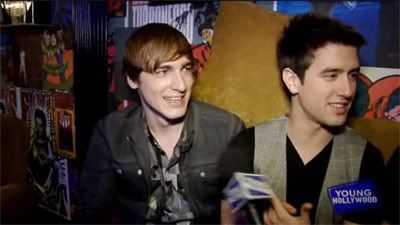 Interviewer: One more random one. Late night snack. What is your favorite late night snack?
Logan: I'm a fan of chocolate chip cookies. I gotta get those chocolate chip cookies!
Kendall: My favorite? I end up having to cook, like, a really hearty meal at eleven o'clock at night.
Logan: He's a big cook, this one.
Why it's epic:
I'm fairly certain I nearly had a heart attack when I saw this video. Carlos and James are so obvious that I don't know what to do with myself, seriously, and it's a beautiful, beautiful thing. The way that James nonchalantly drops in "knock on Carlos' leg" like it's a normal part of the vocabulary of English idioms is mind-boggling – really, James? Really? And the reaction is incredible. It would be one thing if this were clearly some sort of inside joke among the boys, but the interviewer and Kendall and Logan both seem to have no real idea at all of what James is talking about. Then, as is par for the course, apparently, Kendall teases Carlos about all of this in a way that's
clearly flirty good-natured and friendly
and James
completely overreacts
, throwing on his famous bitchface, grabbing onto Carlos' shoulders, and
telling Kendall not to mess with his boy. His. Boy.
Carlos is
his boy
. Carlos seems a little surprised by this for all of three seconds before nonchalantly and sneakily putting an arm behind James' shoulders on his seat. I can't handle them. At all. And, not to be outdone, Kendall and Logan have an adorable moment at the end of the interview as well, when Kendall's talking about how "late night snack" means "cooking a hearty
health-conscious and prepared with ingredients from Whole Foods, because saving the world one Big Mac at a time is his Very Important Mission
meal" and Logan chimes in to tell everyone that of course he knows what a big cook Kendall is. (From those healthy meals that Kendall cooks for Logan all the time, obviously. Because Logan's really a fan of tofu burgers with soy cheese. No, really, he is. He swears. Can't you tell from his forced smile and the way he's trying not to feel a little nauseous thinking about the last meal that Kendall cooked for him?)
3. It's the K and L thing.
The Bonnie Hunt interview was a veritable goldmine of amazing moments for our boys. Right from the moment that they slid down the pole in the sparkliest of fashions possible, I'm pretty sure we all knew we were in for something epic here.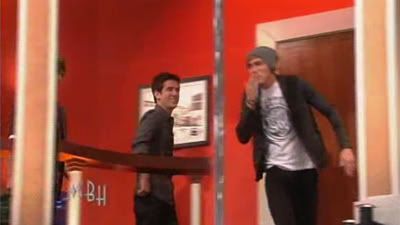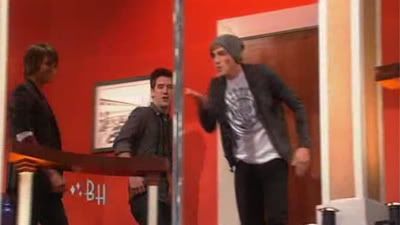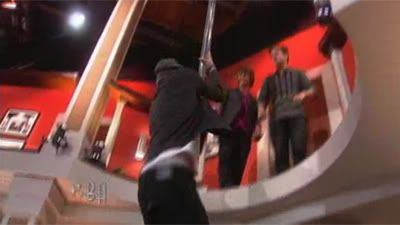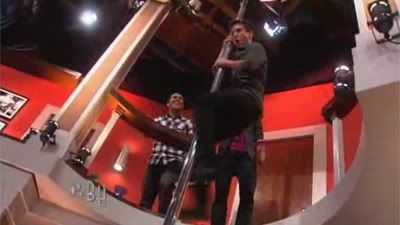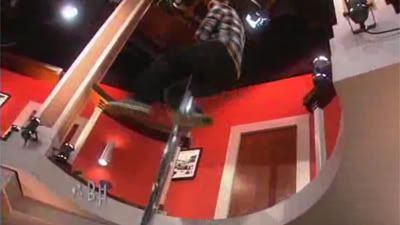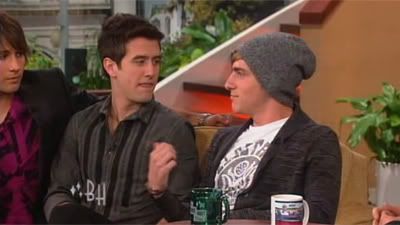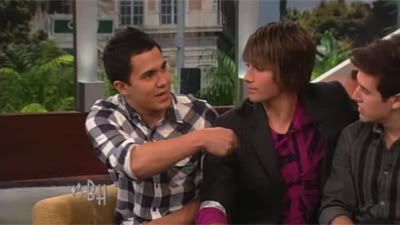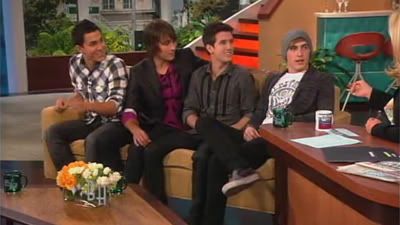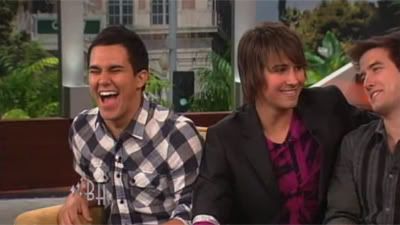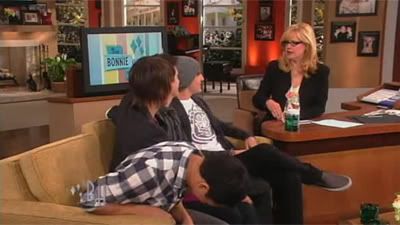 Carlos: These two get mixed up all the time, though.
Kendall: Even on set.
Bonnie: James and Logan?
Kendall: No, me and Logan.
Bonnie: Really?
Kendall: I think it's because of the K and L thing, you know? It's like, right next to each other in the alphabet.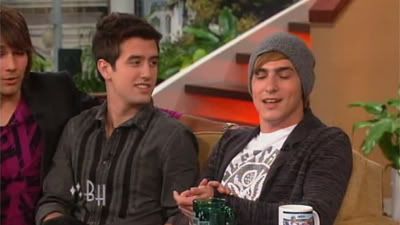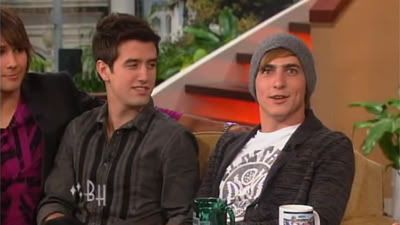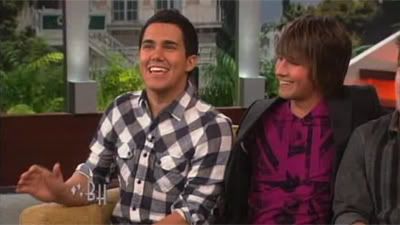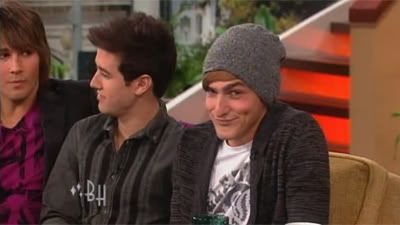 Bonnie: So do you guys ever do any pranks on the set?
Logan: Oh, yeah.
Bonnie: What? Like, give us an example. Come on, Carlos.
Carlos: Well, it's kind of like – I have a lot of energy, so it keeps me entertained.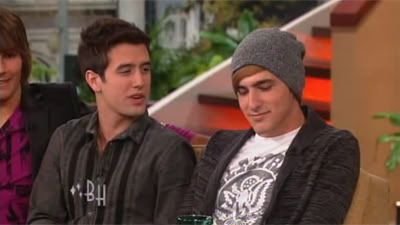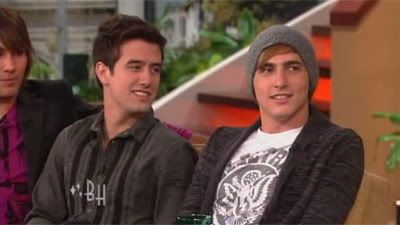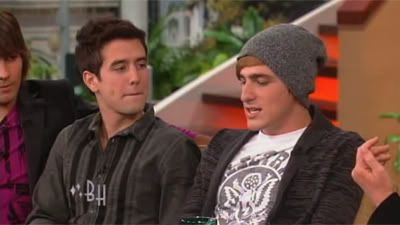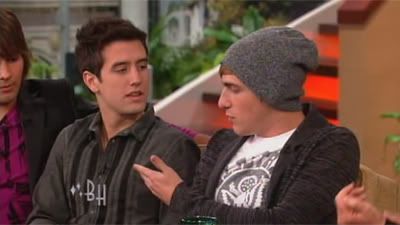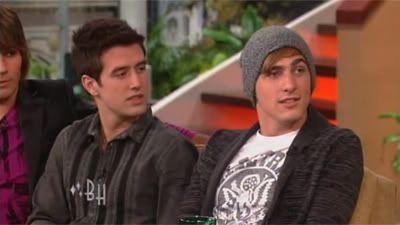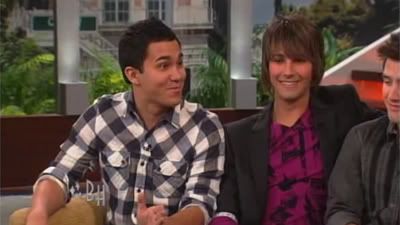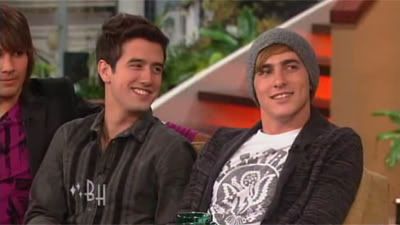 Carlos: I'm the Broadway buff, so I want to go to Broadway. I studied musical theater, and then, now I'm here, so I'm just going with the work, going with the flow.
Kendall: He likes Rent.
Carlos: Oh, no.
Bonnie: That's a good play!
Carlos: That's all they know! So every time I talk about musical theater, they're like, oh, Rent. Five hundred twenty five thousand six hundred…
Kendall: I pulled up and he was listening to The Sound of Music yesterday.
Bonnie: That's great music!
Carlos: They won't drive with me, though!
Kendall: I'm just saying, it's not driving music.
Why it's epic:
Where to even begin with this one, oh my. There's the way the boys slide down the aforementioned pole – Kendall blowing a sparkly kiss first, Logan seeming a little apprehensive, Carlos being adorable and full of energy as usual, and James, um, seeming a little too comfortable and familiar with the action. Just saying. There's the way that Logan's eyes
do not leave Kendall at all
for pretty much the entire interview. I'm not sure I've ever seen Logan stare harder at Kendall – stares complete with lip-licking and once-overs – than he does in this interview. There's Kendall's amazing smirk when Carlos talks about his
energy
and things that keep him
entertained
. There's the obligatory teasing Carlos about Rent, which prompts the least straight answer I've ever heard a boy give in Kendall's sparkly, hand-gesture-accompanied "I'm just saying, it's not driving music." But where this interview really gets epic is when the talk about Kendall and Logan getting mixed up starts. I have no idea on earth why Carlos brought up the topic in the first place, unless, as they were talking about later in the interview, Kendall and Carlos were having a bit of a prank war, and "outing your best friends on national television" counts as a valid form of retaliation. And then Kendall's reaction is a thing of beauty. The K and L thing? Really, Kendall, sweetheart? Of all the answers you could have given, the one you chose was "the K and L thing"? Because K and L… sound so much alike? Because… you two look and act so much alike that I'm sure this is a problem to begin with? (
moonspoken
pointed out to me, in discussing this with her while I was making the spam, that J and K are
also
next to each other in the alphabet. Funny how apparently James and Kendall get mixed up on set all the time too, isn't it? Kendall, sweetie, your logic doesn't even hold up in the situation, let alone make any logical sense at all.) Logan's reaction the entire time Kendall's rambling his illogical answer is somewhere between "dying of embarrassment" and "I'm going to kill Carlos the minute we get backstage," and then, if all that weren't enough, Carlos' reaction seals the deal. He gives a headshake that can only be described as "…nah, silly, it's because you're
boyfriends
," before proceeding to spend a good five or ten seconds thinking this is all the
funniest thing he's ever seen in his life
. Oh, Carlos. It's one thing to out yourself and James in interviews every three seconds, but letting Kendall and Logan do it in their own time might be a good idea from now on?
2. Paging Dr. Freud? There's a case here you'll want to make a note of.
The most epic of all epic print interviews up to date, by far, has been the boys' "Seventeen Things" interview with Seventeen Magazine. There's more than a dozen amazing quotable moments throughout the interview, from Logan's closet love of Titanic to James' ridiculous justification of his impulse buys at H&M to Kendall's Very Important Mission to Save The World One Big Mac at a Time, but far and away, I'm pretty sure this is the moment we all remember this interview for.
Seventeen: What did you dream about last night?
Carlos: James took me for a helicopter ride, and then we bungee jumped into a volcano.
Why it's epic:
This is perhaps the most symbolic dream I've ever heard in my
life
, rivaled only by Dustin's famous "attacking zombie Kendall and Logan with guitars" dream. First of all, Carlos dreams about James. Second of all, Carlos feels compelled to
tell the press that he dreams about James.
Carlos, sweetheart, do you even realize that every third word out of your mouth has something to do with James? He's like an oblivious middle schooler with his first real crush, who has no idea on earth how obvious he's being, and it's darling, really. And then there's the dream. Oh, the dream. Listen up, because this is what Carlos' subconscious tells him at night: Carlos dreams about James and him traveling to high places together – James
taking him
to high places – before the two of them make a plunge together into a burning pit of fire. There is nothing at all symbolic, homoerotic, or anything more than platonic about any of that. I swear. There's nothing at all in that that Freud would have had a
veritable field day
with if Carlos and James had lived during his day. And again, I stress that
Carlos voluntarily told the press about this dream
. I can't even. I'm still a little speechless. Who does PR for these boys, and more importantly, where can we send them a fruit basket or something for not even caring a little bit what they say to the press or how obvious it is?
read the full article here
1. What? It's the reason Carlos watches the show…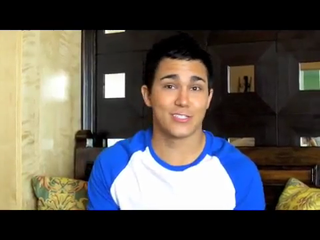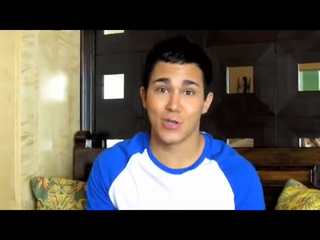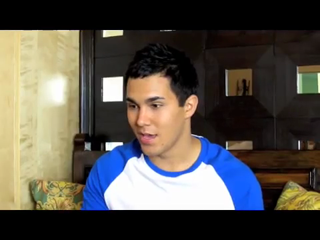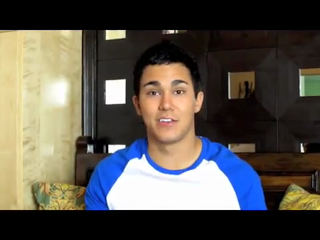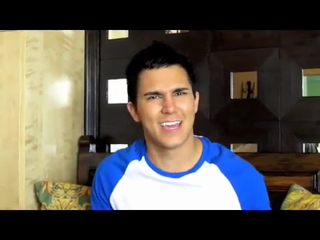 Interviewer: So, Carlos, what are three reasons why fans should watch this show?
Carlos: Two, we've got tons of fun guys. I mean, Logan is hilarious, James is just so pretty, and, uh, Kendall is, uh, Kendall, and he's always got something up his sleeve.
Why it's epic:
Because James is just so pretty.
Because James is just so pretty.
Because James is Just. So. Pretty.
Ding ding, ladies and gentlemen, we have a winner. Can this become our sort of official fandom catchphrase or something? Can we have icons and macros and things that have this plastered all over it? Can we use this logic to explain things all the time? Because I'm pretty sure we all need to. Why is the sky blue? Because James is just so pretty. Why did the chicken cross the road? Because James is just so pretty. Why is this the greatest fandom that has ever been a fandom?
Because James is is Just. So. Pretty.
I rest my case.